Puzzle 774 - Cubic Alternations

By Custom Puzzle Craft

Puzzle #774 - Cubic Alternations

Puzzle 774 - Figurals

Puzzle 774 - Reverse side before sanding
As it happened (from my Journal archives)
December 12, 2007
Wednesday 5:40 pm - A lot of work today as the Christmas Crunch marathon continues. I prepared the boards for four remaining puzzles to be done this year. I spent several somewhat tedious hours doing bit by bit modification of the graphic Cubic Alternations image, printed it and mounted it. I also design an "animated gif" image associated with that image which I plan to put in the auction. Finally, I printed, mounted and cut #773, a 20 piece grid style puzzle of a grandfather and his two grandchildren, currently untitled. Cutting went well.
Tomorrow I'll ship #773 and begin cutting Cubic Alternations. I'm in good enough shape that I'm going to go for 500 pieces in this puzzle. I expect to complete it late Friday and launch the auction. Somewhere in the next couple days I need to make time to scan, print and mount the two "New York" puzzles as I want to start cutting on Saturday.

Geometric progression that is the basis for the image in Puzzle #774 Cubic Alternations (cutting to start tomorrow)
You may have to click on "refresh" or "reload" on your browser to see the animation
Wednesday 10:51 pm - Here is a picture showing a partial image of the print to be used for Cubic Alternations, this year's annual Geometric Pattern Puzzle auction to be held later this week on eBay as the #73 puzzle of the 100 Puzzles Project.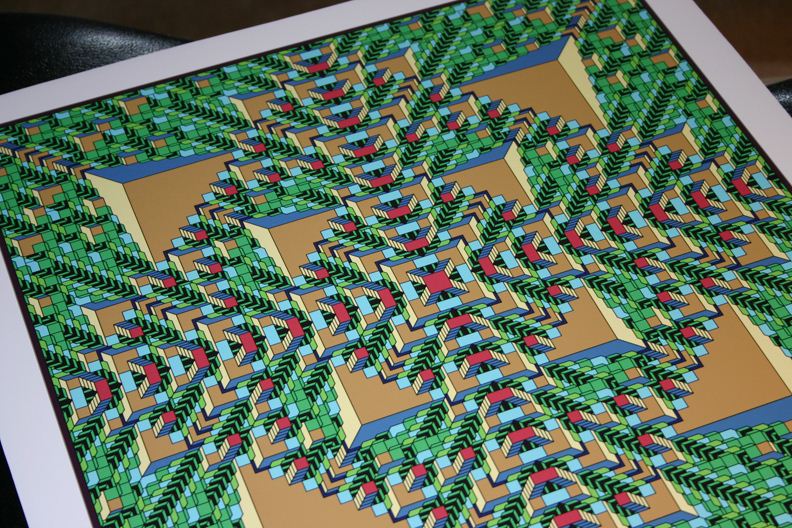 The print will be trimmed to the thin dark border around the image.
The puzzle will be about 15" x 15" [Edit November 6, 2012: should have been about 14.47" x 14.47" ]
December 13, 2007
Thursday 6:36 pm - In one of the most intense days ever of physically and mentally demanding effort, I completely cut #774, Cubic Alternations! Yay! The puzzle has about 500 pieces and looks excellent. I started the day early and did the puzzle in about nine hours of cutting plus short breaks to stretch and one longer break for lunch. I'm seriously exhausted, what an effort this was, and I'm so glad it is done! The puzzle looks fantastic, very consistent cutting and a cool image - and the puzzle will be very difficult to assemble, in keeping with the tradition of my annual Geometric Pattern puzzles. I'll have pictures when I launch the auction tomorrow afternoon.
Tomorrow will be a much more relaxed day relatively speaking. I will ship #773 (was going to ship it today, but I decided today would be fully focused on getting #774 done in one day); scan, clean up as needed, print and mount the two images for the "New York" puzzles; and launch the three day eBay auction for Cubic Alternations. No cutting tomorrow.
It is excellent I got #774 done, as this takes the stress off for the final two puzzles of the year.
December 14, 2007
Friday 7:53 pm - Auction launched. This is a THREE DAY auction. This puzzle, #774, Cubic Alternations, is very cool, I really like the way I colored the image. Final piece count 516, including two figurals: The Observer and the mandatory Fractagon that I have been including in all of my Geometric Pattern Puzzles.
December 15, 2007
Saturday 4:52 pm - This year's annual Geometric Pattern Puzzle auction, Cubic Alternations, is off to a good start with four bids placed. As this is just a three day auction, there are only TWO DAY's left.
December 17, 2007
Monday 7:20 pm - Another long day of cutting, so glad the end is in sight as I'm getting pretty sore and weary. Still, I continue to focus and cut well. I completed #775 and cut about 140 pieces of #776; I'm close to being on schedule. Tomorrow another long day of cutting and I will be done - if necessary I may finish the puzzle Wednesday morning, but I'll concentrate on getting it done tomorrow. Wednesday's goal is to sand, clean up and ship the puzzles as well as Cubic Alternations - the auction for this puzzle is just 10 minutes from being over. Looks like the puzzle is going to the customer who won all seven of the previous Geometric Pattern Puzzles over the years, only one bidder has challenged the bid.
December 18, 2007
Tuesday 7:15 pm - Yay! In the final day of cutting, and a very long one at that, the last last puzzle of the year is done! Will take several days, to unwind! But, first there is one more day of puzzle work. The two "New York" puzzles need to be sanded, cleaned up, inspected, counted, boxed, packed and shipped; Cubic Alternations needs to be shipped too; will take most of the day to do this. Then prepare for the holidays, and about a week to catch up on records.
December 19, 2007
Wednesday 11:47 pm - I packed and shipped Cubic Alternations late this morning.
---
Specifications
| | | |
| --- | --- | --- |
| Name | | Cubic Alternations |
| Artist | | John S. Stokes III |
| Date Completed | | December 13, 2007 |
| Size | | 14 7/16" x 14 7/16" (corrected 11/6/2012 from 15" x 15") |
| Cutting Style | | |
| # Pieces | | 516 |
| Color Line Cutting | | None |
| Figurals | | Fractagon, Observer |
---
© John S. Stokes III - Puzzle Crafter & Webmaster