Puzzle 798 - Not Everyone Can See A Unicorn

By Custom Puzzle Craft

Puzzle 798 - Not Everyone Can See a Unicorn
1012 pieces including 24 figurals!
As it happened (from my Journal archives)
June 30, 2008
Monday 5:59 pm - Well I got just a little puzzle work done today, mounting #798, Not Everyone Can See A Unicorn, but did not start cutting as an early afternoon practice for performance "A" and early evening practice for performance "B" just won't allow for puzzle cutting time. Starting tomorrow my schedule is completely open until the afternoon of July 4. Puzzle cutting will start early tomorrow morning.
July 1, 2008
Tuesday 6:37 pm - This morning I designed the figural set for #798, Not Everyone Can See A Unicorn, this took quite a while as I've decided this puzzle is going to have lots of figurals, 24 of them! The set will have: Howling Wolf, Long Stem Rose, Bear, Football Quarterback, Poodle, Bug, Faerie, Spiral Love Heart, Pawn (Chess), Rabbit, Dalek (Dr. Who), Twirl Star, Owl, Unicorn, Sun Glasses, Magic Wand, "Jack Star", Stretching Siamese Cat, UFO, Grid Puzzle Piece, Elephant, Rocket, Dog, Turtle! How's that for a wide ranging figural set! The Pawn and Football Quarterback are new, all the rest have appeared previously; I did make a modification to the Magic Wand. I then had to waste almost 1/2 hour trying to get my very, very balky printer to print the template sheet, must get a new printer soon - the one I use for this sort of thing is approaching eight years old.
I then did the initial cutting of #798 (not nearly as harrowing as a Swirl Curl or Creative initial cut) and subdivision, the wavy border and then about 200 pieces. Cutting going well. I'm in full marathon mode now and as I've cancelled all Wednesday dance activity I expect to make massive progress on this puzzle tomorrow. My goal is to complete it on Thursday, with a projected 1000 pieces total. I'll then focus on the "7 horrors" of puzzle #794 remaining to repaired. If I get the repairs done (or some repairs and giving up on the most difficult cases) before the prints arrive, I'll swap #799 and #800 in the Puzzle queue and then continue work. I first need to visit a local hobby shop as I need some extremely fine tweezers.
July 2, 2008
Wednesday 11:28pm - In a very long physically demanding day, I made major progress on #798, Not Everyone Can See A Unicorn, cutting around 520 pieces! With around 720 pieces done, I still have around 280-290 pieces to go to complete the puzzle. I plan to get up early tomorrow and get the puzzle done. Puzzle looks good. This puzzle will be the 80th Puzzle of the 100 Puzzles Project and the first one with over 1000 pieces, the previous maximum was 806 pieces for #510 The Magnificent Flowscape Pattern, the 33rd puzzle of the 100 Puzzle Project.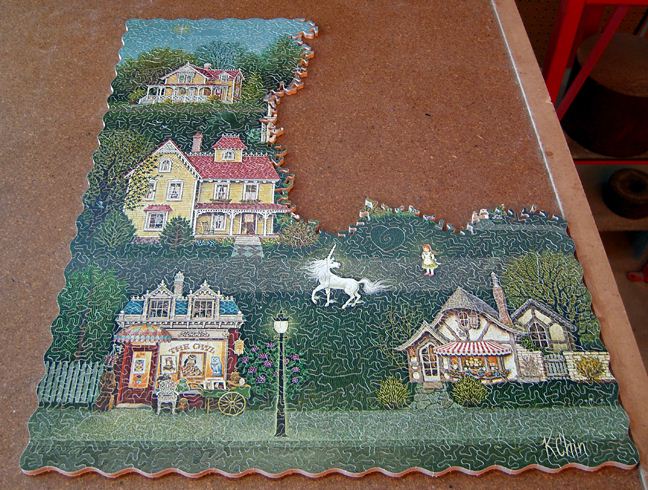 Puzzle #798 in progress, taken when I had around 675 pieces done
Total piece count will be in the 1005-1010 range.

Puzzle 798 figural set and some regular pieces

Figurals - reverse

Puzzle 798 - Pile of the regular pieces
One minor note: this puzzle contains one of the most precisely cut signature pieces ever. I was so much in the center of the pattern the whole time I cut it that I figured it would fit no matter how I rotated it and I was correct. Usually there is just enough variance to prevent it fitting in all orientations, particularly before cutting the surround pieces when there is less "give".

Puzzle #798 - Signature piece - placed at a 90 degree clockwise rotation after it was cut.
July 3, 2008
Thursday 9:15pm - Puzzle #798 is done. I'll have the final piece count, official photo, picture of figurals and launch the auction on Sunday.
July 4, 2008
Friday 10:23pm - Puzzle #798 now ready to ship, but first the auction needs to be conducted - will start the auction on Sunday and I'll have more pictures then. Final piece count 1012, the highest total for one of my puzzles in over five years and the first 100 Puzzles Project puzzle with 1000 or more pieces.
---
Specifications
| | | |
| --- | --- | --- |
| Name | | Not Everyone Can See A Unicorn |
| Artist | | K. Chin |
| Date Completed | | July 3, 2008 |
| Size | | 16" x 20.5" before cutting the wavy border |
| Cutting Style | | |
| # Pieces | | 1012 |
| Color Line Cutting | | None except for girl Treat Piece |
| Figurals | | Howling Wolf, Long Stem Rose, Bear, Football Quarterback, Poodle, Bug, Faerie, Spiral Love Heart, Pawn (Chess), Rabbit, Dalek (Dr. Who), Twirl Star, Owl, Unicorn, Sun Glasses, Magic Wand, Texas Jack Star, Stretching Siamese Cat, UFO, Grid Puzzle Piece, Elephant, Rocket, Dog, Turtle |
---
© John S. Stokes III - Puzzle Crafter & Webmaster